Republicans nominate Flood to fill vacancy in 1st District, rounding out ballot for June special election | Regional government
Staged in what is expected to be a series of showdowns at the polls this year, Republicans in Nebraska on Saturday nominated State Senator Mike Flood as the party's nominee to fill the 1st District congressional seat vacated by Jeff Fortenberry.
Flood, 47, from Norfolk, is also running to become the Republican candidate in the May 10 primary. He will face Democratic nominee Lincoln State Sen. Patty Pansing Brooks in the June 28 special election and likely again in the November 8 general election.
"It's an honor to have my party's nomination," Flood said at a news conference following Saturday's Republican Party of Nebraska executive committee meeting in Lincoln and focused on the both on the special election to fill the last six months of Fortenberry's term and on the general election to determine a two-year term in Washington.
"We have to win this in November, we have to fire Nancy Pelosi, and it all depends on whether voters in the 1st Congressional District are inspired by the message that I have," Flood said.
Flood and John Glen Weaver, a retired military officer from Omaha who is also a Republican primary candidate, addressed the state's GOP executive committee ahead of Saturday's secret ballot vote.
Flood wins Farm Bureau approval in race for home
Flood, a three-term state senator and former speaker of the Legislative Assembly, was selected for the special ballot in a 24-5 vote.
The special election was needed after Fortenberry, a nine-term Lincoln congressman, was convicted of one count of concealing campaign contributions from driving and two counts of lying to federal agents last month by a federal jury in California.
A few days after the verdict, Fortenberry announced his resignation. His last day in Congress was March 31.
Republicans have represented Nebraska's 1st District in all but one term (Clair Callan, 1965-67) in the past 83 years.
"I have no doubt Nebraska Republicans will unite behind Mike and defeat Senator Pansing Brooks in the special election," Nebraska Republican Party Chairman Dan Welch said. "Senator Pansing Brooks is just too liberal for this state and she has the voting record to prove it."
Nebraska Legislature rejects criminal justice reforms meant to slow prison growth
Watch now: Nebraska Dems nominate Pansing Brooks for special congressional election
On Saturday, Republican leaders highlighted Flood's record in the Legislature, including championing the bill in 2011 that made Nebraska the first state to ban abortions after 20 weeks.
They also touted Flood's tax record, including his work on the $900 million tax cut sent to the Legislature last week.
If elected, Flood plans to work to resolve issues in Congress that affect Nebraskans, such as soaring inflation.
"Nebraskans are feeling it at gas pumps and in grocery stores," Flood said.
It also plans to tackle government mandates such as COVID-19 vaccination requirements.
Other key issues he will address will be securing the country's southern border, strengthening the military and protecting small businesses and families.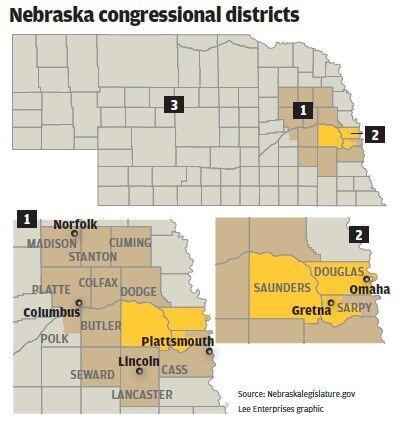 Asked how this special election fits into this year's broader campaign, Flood said the June vote speaks to the constitutional importance of the House of Representatives.
"It's not something where the governor can appoint someone to fill the vacancy. It's meant to be the legislative body closest to the people and only the people decide who sits on it," Flood said.
Flood, who was expected to challenge Fortenberry in the primary before his conviction and resignation, won endorsements from Gov. Pete Ricketts, former Gov. Dave Heineman, the NRA, Nebraska Right to Life and the Nebraska Farm Bureau.
Representative Jeff Fortenberry will appear on the ballot even though he has resigned. Other Republicans: Mike Flood, Curtis Huffman, John Glen Weaver and…
Nine Republicans are in the running for the GOP gubernatorial nomination and two Democrats. One from each party, with a lone libertarian candid…
Republican incumbent Bob Evnen of Lincoln faces two challengers in the primary: Robert Borer of Lincoln and Rex Schroder of Palmyra.
Mike Foley and Larry Anderson are competing for the Republican ticket in the primary. We'll move on to take on Legal Marijuana Now candidate L.…
State Treasurer John Murante is seeking a second four-year term. He faces Paul Anderson in the Republican primary. Both are from Omaha. And…
The primary will eliminate one of two Republican candidates — Mike Hilgers or Jennifer Hicks — who run. The Legal Marijuana Now candid…
Three legislative districts in southeast Nebraska have competitive primary ballots: Districts 2, 26 and 46.
Only the District 3 seat on the Lancaster County Board of Commissioners features a contested race in the primary. County Commissioner Deb Scho…
Joe Nigro and Kristi Egger are running in the primary to be the Democratic candidate. The winner will face Trevin Preble, the only Republican ca…
One of the two Republican candidates for Lancaster County Treasurer – Tracy Refior or Jasmine Gibson – will be eliminated in the primary. The w…
District 5's seat on the CSC Board of Directors is the only race where a candidate will be eliminated in the primary. Joann Herrington, Megan Neiles-Br…
Two of the three candidates in the Lower Platte South Natural Resources District Subdistrict 1 race will advance from the primary. The candidates are:…
Contact the writer at emejia@journalstar.com